The four beautiful faces pictured above are the surviving children of Claudia Fernandez who, along with another patron, was struck and killed by a drunk driver while buying a late-night meal from a taco truck.
While the driver in this incident was sentenced for 35-to-life for second-degree murder, she was not the only responsible individual. The owner of the car saw the driver getting drunk at a party immediately prior and exercised no reasonable care to try to take the keys away.
John Carpenter secured the largest wrongful death verdict ever in California for pure noneconomic damages for Claudia's four bereaved children ($45 million in total), but no amount of money could ever make up for the tragedy of losing their mother.
Attorney John Carpenter stated "This is a painful reminder that we are responsible not just for our own actions, but for what we allow to happen when we see something wrong and decide not to act. This accident could have been prevented if those involved had exercised reasonable care."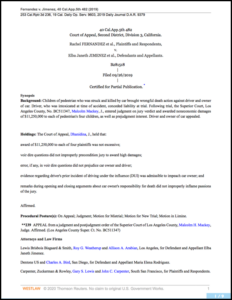 Click here to read the published decision